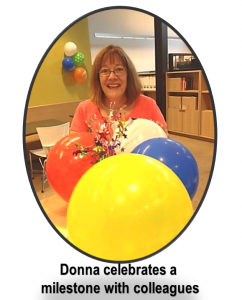 Do you remember the old Easy-Off (RTM) Oven Cleaner television ad?
The one where the beleaguered lady is on her knees, scouring the inside of an oven.
She says, "Be a good cook, Mother said. You'll get a man.
"What did I get? 25 years with my head in a dirty oven!"

Even to this day, every time I recall her dilemma, I can't help but smile.
My lot, I'm pleased to report, has been a great deal more pleasant than hers.
I've been blessed to have been gainfully employed, in a job I enjoy and with people I'm honoured to know.
Still, 25 years! It really is hard to believe.
During that time, my professional life has grown and flourished, as have my personal endeavours.
It's a good idea to take stock occasionally. Yes, I've come a long way. I've been so very lucky in my marriage to Alex, and in our little family.
And of course, my writing and publishing goals have been fun.
But there is still so much more I want to accomplish!
With this latest milestone behind me, my 25th Anniversary on the job, it seems prudent to take some time to re-assess how best to spend the next few years.
Of course we should cherish every moment we are lucky enough to be alive.
Having said that, I can't shake this feeling that the next few years will bring welcome developments in my writing career.
I'm not ready to share it yet, but I've been working on a trilogy of crime stories. Just laying the foundation in my mind, so to speak.
Can't wait to spring it on you!