Some exciting news to share with you all today:
The Short-List nominees for the prestigious Arthur Ellis Awards (Crime Writers of Canada) were announced last night.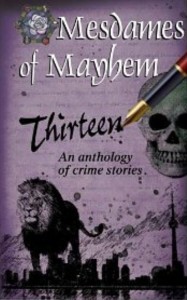 I was thrilled and honoured to learn that my story Watermelon Weekend from our crime anthology THIRTEEN was short-listed in the Best Short Story category, along with fellow THIRTEEN contributor Sylvia Maultash Warsh for her story The Emerald Skull. (Carrick Publishing, 2013)
Congratulations to nominees in all categories, especially to yet another fellow-contributor, Melodie Campbell, whose book The Goddaughter's Revenge (Orca Books) was short-listed for Best Novella!
It was indeed a great night for the Mesdames of Mayhem, and for Carrick Publishing as well!