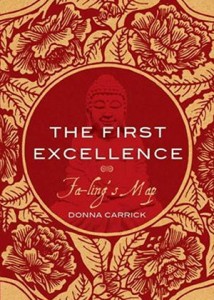 The First Excellence ~ Fa-ling's Map
Donna Carrick
Literary Thriller/Spy/Intrigue
Praise for The First Excellence
What happens when East bleeds into West?
Join Fa-ling on an incredible journey into the heart of mainland China as she sets out to discover the land of her birth. In order to determine her future, Fa-ling must unlock the mysteries of her past. To this end, she travels with a Canadian adoption group to the exotic southern province of Guang-Xi Zhuang.
Searching for her lost heritage, Fa-ling encounters murder, kidnapping, political intrigue and organ theft. Together with Detective Wang Yong-qi and his brilliant but uncouth partner Cheng Minsheng, Fa-ling must uncover a high-stakes kidnapping plot — before another child goes missing!
Donna Carrick grew up in Canada's military, and now resides in Southern Ontario with her husband author Alex Carrick and their three children. Along with their beloved family pets, the Carricks spend most of their free time in Ontario's North Country.
The First Excellence draws on their own experience in adopting a child from China.