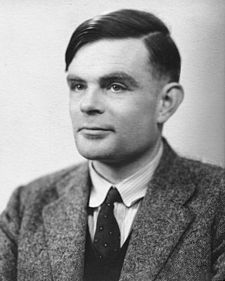 One of our family's greatest pleasures is treating ourselves on a semi-regular basis to the movies.
While we enjoy a variety of genres, we tend toward action, adventure, or anything we can watch with the younger Carricks.
Occasionally, we encounter a film that warrants special mention. Last night, we were lucky enough to view one such: The Imitation Game, starring Benedict Cumberbatch as Alan Turing, the genius British mathematician, logician, cryptologist and computer scientist who is credited with creating the first artificial intelligence, which was used to crack the German code machine known as Enigma.
If you haven't seen it yet, don't let the quiet media surrounding this one fool you. The theatre was packed — something the Carricks rarely, if ever, experience. Word is out — this will be the 2015 film you won't want to miss.
Not only is the writing superb, and not only is it brilliantly executed by a number of today's finest actors.
The story is also profoundly human.
We found it to be moving in a way few films are anymore.
The effect is, to some degree, heightened by a typically British sense of understatement. But that's not the whole story.
Picture this: You are Alan Turing.

You have effectively reduced the horror of the Second World War by at least 2 years, saving an estimated 14 million lives. (Although there is no real way to nail down a statistic like this, most experts agree the number of lives saved by Turing's work is very high.)
You have created a machine that is the father of all modern computing technology, changing the course of history undeniably and profoundly.
And yet, due to a quirk of your nature, a wrench thrown into your DNA prior to birth, and the erroneous, unforgiving mores of the time, you are somehow, inexplicably, not quite "good enough".
When Turing died in 1954, only days before his 42nd birthday, most suspected suicide by cyanide poisoning.
He had been convicted of homosexual acts, which were criminal at the time, and as an alternative to enduring a prison sentence, was forced to undergo hormonal treatments, a form of chemical castration.
I've suffered depression in my younger years. Having lost a sibling to suicide, and having attempted suicide on a couple of occasions, I can only discuss my own experience.
The primary feeling is one of being "not good enough".
In the case of Alan Turing, I can only shake my head.
If this brilliant, dedicated man, this scientist and patriot, could be reduced to such feelings, then perhaps that's something we should all heed closely.
The next time I feel "not quite good enough", I'm going to remember Alan Turing.
Then I'm going to smile at the absurdity of such feelings.
See the movie. I think you'll like it.